SCRCPY is a powerful, open-source tool that allows users to mirror and control their Android devices from their computers. This review will cover SCRCPY's features, usability, performance, support and documentation, pricing, and overall value.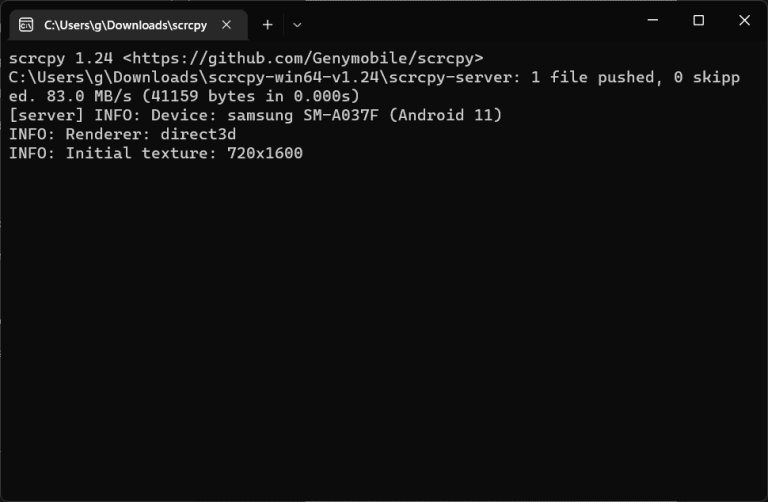 One of the main features of SCRCPY is its ability to mirror the screen of an Android device in real-time on a computer, with the option to control the device using the computer's keyboard and mouse. Additionally, the software supports recording of the mirrored screen, making it an ideal solution for creating tutorials or demos. It also allows users to run their phone at a higher resolution, which is especially beneficial for gaming or other high-resolution usage. The software is compatible with Windows, Mac and Linux operating systems.
SCRCPY's interface is easy to navigate, making it easy to set up and get started. The process of mirroring and controlling the device is straightforward, and the software's compatibility with various operating systems is a plus. Overall, the usability of the software is great, during my use I didn't encounter any bugs or issues.
Performance wise, SCRCPY runs smoothly and efficiently, I did not experience any lag or crashes while using the software. The mirroring is high-quality and the interaction with the device is real-time.
SCRCPY provides detailed documentation and active community support to help users troubleshoot any issues they may encounter. The documentation is well-written and easy to understand. The community forum is also a great place to get support and learn tips and tricks from other users.
SCRCPY is open-source and free to use, making it a great value for anyone looking to mirror and control their Android device on their computer. The software's performance, compatibility, and support make it a great option for professionals, developers and personal use. Overall, SCRCPY is a powerful tool that offers a lot of benefits for users looking to mirror and control their Android devices from their computers.
If you are having trouble using SCRCPY, here are some steps to troubleshoot:
First, ensure that your Android device is properly connected to your computer via USB cable and that USB debugging is enabled on the device.
Next, make sure that scrcpy is added to your computer's PATH. If you installed scrcpy using the Windows installer, it should be in the PATH by default. But for macOS or Linux, you might need to manually add the scrcpy installation directory to the PATH.
Before you run SCRCPY, check the version of both SCRCPY and adb, they should be compatible.
Try running the command "adb devices" on the command line, this should display a list of connected devices, with the device you're trying to use SCRCPY with listed as "device."
You can also run "SCRCPY" command in the command line which might give more specific error message related to your problem
In case you are using Linux and face error "libGL error: No matching fbConfigs or visuals found", you can install the package mesa-libgl.
If none of these steps help you solve the issue, please provide more details about the error message you are receiving or any additional information about the problem you are experiencing and i will be happy to assist you further.